Books
Joelle Renstrom's collection of essays, Closing the Book: Travels in Life, Loss, and Literature, was published by Pelekinesis in August, 2015.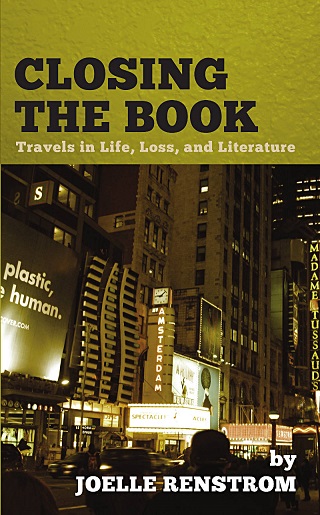 Closing the Book explores the intersection of literature and life in personal essays about traveling, teaching, reading, writing, living, and dying. Each essay's narrative arc is formed and informed by the act of reading literature that somehow seems written specifically for the exact moment in which it is read. Renstrom, who moved to New York on September 8, 2001, reads Kurt Vonnegut's Sirens of Titan and engages the assertion that "[we are all] victims of a series of accidents," in an attempt to make sense of the roles of luck, fate, and karma in the events of 9/11, as well as the aftermath in her own life and in the lives around her. Renstrom uses Don DeLillo's White Noise as a vehicle for contemplating mortality as she struggles with her father's cancer diagnosis, her unexpected return to her hometown, and the fear of death that envelops her family. Later, as the author travels to Sweden with her father's ashes searching for some sign of him, his ancestors, or of her true but lost self, she writes a series of letters to Ray Bradbury, whose work she reads along the way. Renstrom relies on science fiction as a catalyst for grief, as well as a means of pushing past grim realities to begin envisioning life reconstructed and to embrace the idea that "there's nothing wrong with rebuilding forever."
Click here for more information about Closing the Book
Essays, articles, stories, and poems
"Saving Humans From Themselves: Why the Overlords Kill Science in Childhood's End" Slate (Dec 2015)
Arthur Clarke raises important questions in one of my favorite books (even if the Syfy miniseries is only so-so)
"Will Mining Celestial Bodies Ruin Space?" Cognoscenti (Dec 2015)
The Asteroid Resources Property Rights Acts may have negative long-term consequences.
"The Worst Driving City in the Country Needs Driverless Cars" Cognoscenti (Sept 2015)
Driverless cars have to be better than human drivers in Boston.
"Ambivalence About Kids Has Pushed Me Down An Existential Rabbit Hole" Full Grown People (Aug 2015)
To be a parent or not to be a parent–that is the question.
"Why I Broke Up With My Novel to Write a Memoir" LitHub (June 2015)
I used to be a fiction writer. Then the fiction got real.
"Who's Watching the Children? Everyone." geekpuff (May 2015)
I engage my dystopian thoughts about what Facebook knows about our kids.
"Artificial Intelligence, Real Emotion?" Slate (April 2015)
Ex Machina explores the question of whether a robot likes you, is programmed to like you, or is pretending.
"I Went on a Blind Date Pretending to Be a Pirate" XoJane (Jan 2015)
My first internet date was an interesting one.
"Science Fiction and the Loss of Technology" Screen/Read (Nov 2014)
What science fiction gains from eschewing technology.
"Realizations of an Over-the-Hill Backpacker" Wherever Magazine (Issue 4, Fall 2014)
I'm now the oldest person in the hostel.
"Almost Humane: What Sci-Fi Can Teach Us About Our Treatment of Prisoners of War" Slate (Oct 2014)
What can we learn from the fictional torture of robots and aliens?
"How We Colonize Mars Is More Important Than When" Slippage (Issue 3, Summer 2014)
I'm not sold on the idea of colonizing Mars–here's why.
"Nothing To Worry About: On Living With Phobias" The Toast (July 2014)
I'm terrified of spiders, but they're not going anywhere.
"Hockeytown" Praxis Magazine (April 2014)
Hockey is a lot more than men crashing into each other while wearing skates.
"The Most Terrifying Kids' Book" Slate (March 2014)
Why I don't think we should encourage our kids to pursue immortality.
"What My Cat Taught Me About Love" Praxis Magazine (March 2014)
I may never have a human life partner.
"Here's How to Convince the Public That We Need to Invest in Space Exploration" Slate (Jan 2014)
What will it take to get NASA more money?
"Linked In, Tuned Out: Why Travelers Should Limit Their Tech" Clever Magazine (Dec 2013)
I debate whether to bring an iPad to Portugal.
"How About a Pop Culture Litmus Test?" The Toast (Nov 2013)
Students keep getting younger and I keep getting older.
"Insert Your Belief Here" Killing the Buddha (Oct 2013)
Why Unitarianism is a saving grace.
"Pacific Rim's Robots Go Beyond the Frankenstein Complex" Slate (July 2013)
Robots and humans: collaborators or competitors?
"The Art of Complaining" Praxis Magazine (July 2013)
Who doesn't love a good rant about work, especially in haiku form?
What the Mind Forgets, the Body Remembers" Cognoscenti (June 2013)
Anniversaries can be physical as well as emotional.
"Deliverance: A Holy Bus Journey to Bosnia" BootsnAll (June 2013)
About the amazing man I met on the bus to Sarajevo.
"How Farfetched Is the Clone Conspiracy on BBC America's Orphan Black?" Slate (March 2013)
Is it possible to clone a human?
"What Would Aldous Huxley Say About Our Always-Connected Society?" Slate (Jan 2013)
Most of us are connected to the internet by more than one device.
"A Sort of Homecoming" Barely South Review (Sept 2012)
An essay about death, coming home, and Don DeLillo's White Noise.
"Implanting Memories like in Total Recall: Could it Happen?" Slate (July 2012)
Remember that? Are you sure?
"Could the Earth's Rotation Really Slow Down Like It Does in the New Novel The Age of Miracles?" Slate (June 2012)
Spoiler: it would pretty much suck if this happened.
"Heartbrake" Praxis Magazine (April 2012)
Someone stole my new bike. There is a circle of hell reserved for this person.
"Falling Short" Northwind Magazine (April 2012)
A short story about cruelty and teenage love.
"Should've Known Better" Praxis Magazine (September 2011)
My first crush was Richard Marx. Stop laughing.
"Gringo's Dilemma" Praxis Magazine (April 2011)
How do we travel without contributing to cultural appropriation?
"How I Spent My Free Will" Minnetonka Review (Winter 2011)
In which Albert Camus and Kazuo Ishiguro argue about philosophy.
"Finding Fathers" Ducts (Dec 2010)
About politics and fatherhood.
"Making Luck" (pages 32-35) Paradigm (Sept 2010)
About living through 9/11 and the nature of luck.
"The War and the Roses" Guernica (Feb 2010)
An essay about Sarajevo, the city that stole my heart.
"Letters to Ray Bradbury" Konundrum (Sept 2009)
I tell Bradbury how amazing he is and what his work has done for me.
"Freedom and Absurdity: The Stranger in the Classroom" Briarpatch (Sept 2009)
Teaching Albert Camus to a bunch of high schoolers. What could go wrong?
"I Went to Psychotherapy and All I Got was This Lousy T-Shirt" Defenestration (Sept 2009)
And a whopping bill, of course.
"Cousin Paul and Mr. T" Defenestration (May 2009)
Flash fiction about two weird and awesome dudes.
Self Park, an ekphrastic collaboration of poetry and art (Summer 2008)
Poetry and paintings–what's not to like?
Awards
Somerville Arts Council artist fellowship (2015)
Solas travel writing award for Most Unforgettable Character (2014)
Writers' Room of Boston Nonfiction Fellowship (2013)
Somerville Arts Council artist fellowship (2012)
Wesleyan Writers' Conference Scholarship (2011)
George William Kenwood Memorial Scholarship in Creative Writing, Vancouver BC (2005)
CBC Television Jim Burt Prize in Creative Writing, Vancouver BC (2005)
Chapbook contest winner, Aux Arc Review (2003)
Virginia Voss writing award, University of Michigan (2000)
Current Magazine poetry contest winner (2000)
Hopwood Undergraduate Award in poetry, University of Michigan (1998)