In Brave New World, there's all kinds of fun to be had. There's Centrifugal Bumble Puppy, rudimentary sexual games for the young ones in school, and, of course, there's the feelies.
The feelies aren't exactly virtual reality—based on Huxley's descriptions, moviegoers don't step into the film and become the protagonist, but they experience what Lenina calls "feely effects" when they grab the metal knobs on the arms of their chair. The Savage freaks out when he feels a "sensation on his lips" when the two characters on screen start making out. And don't get me started on the musk-breathing scent organ.
It would be nice for some sensory enhancement to accompany movies and books, wouldn't it? Just think of how interesting the library would be, or class. In fact, a class at MIT inspired its students to create something they call "Sensory Fiction" (though not because the class was boring—a class called Science Fiction to Science Fabrication would pretty much be the most awesome class ever). Sensory Fiction isn't exactly like the feelies—in its current incarnation, it only works for books. It also requires more than a couple metal knobs—in effect, a reader wears this book and experiences the emotions felt by the characters.
Sensory Fiction is really a vest (can I suggest a Malthusian birth control model?) that contains a network of sensors and actuator that deliver sensations such as warmth, coldness, tightness, looseness, vibrations, and light. Since the vest has to be programmed specifically for a book, so far it only works for James Tiptree's The Girl Who Was Plugged In. Appropriate, no? The creators of the technology also chose the story because of its variety of landscapes, from sunny to underground, and its variety of emotions, from love to despair. The experience of reading the book starts with an animated cover, and tumultuous passages cause vibrations, and tense ones cause the vest to constrict via air pressure bags.
Sensory Fiction is similar to the haptic jacket created by Philips Electronics that contains vibrating motors. The jacket is lined by a 16 by 4 grid of independent actuators and can run on two AA batteries at full throttle for an hour. Its designers say that wearers wouldn't feel kicks and punches—not because the jacket couldn't do it, of course, but because the point of the garment is to study emotional, not physical, immersion.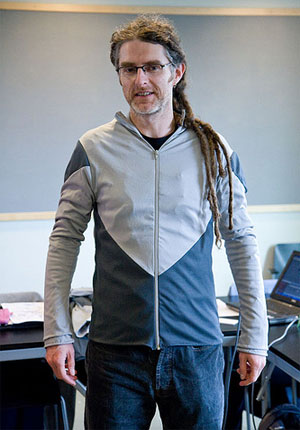 The jacket has a bit more range than the vest—it can respond to signals encoded in a DVD, or it can be used with a program that allows it to work on the fly. The motors can evoke shivers, tension or a pulsing reminiscent of a thumping heart. The skin's neural connections and our brains do the rest in terms of creating realistic sensations.
Like virtual reality, haptic technology is becoming more and more integrated into what used to be our fictional forays, but are now becoming our firsthand experiences. In fact, the IEEE has a Technical Committee on Haptics which, among other things, holds conferences at which researchers showcase these wearable technologies. I'm holding out for a crew from MIT to program Brave New World to work with their vest. The orgie porgies would be religious on a whole new level, and simulating soma seems like a good time. And the Assistant Predestinator, and later Lenina and the Savage, get to experience "every hair of the bear reproduced" when they watch a love scene on a bearskin rug at the feelies—don't Sensory Fiction readers deserve the same?