As a recipient of a 2012 Somerville Arts Council fellowship grant for www.couldthishappen.com, I am excited to announce a "Could This Happen?" event.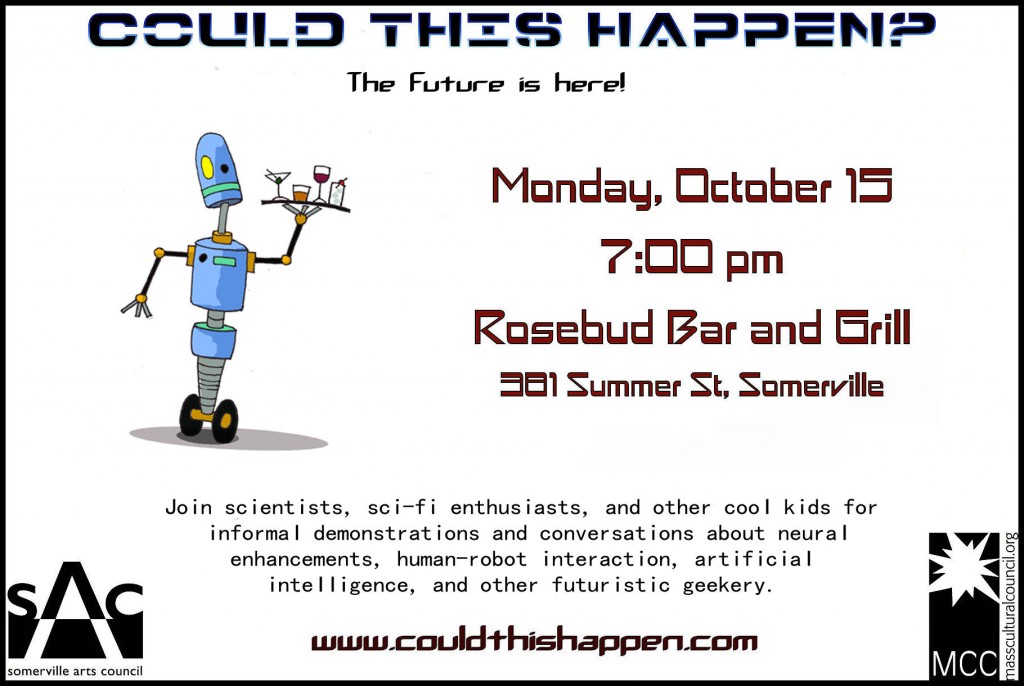 Join scientists and sci-fi enthusiasts for informal demonstrations and conversations about artificial intelligence, neural enhancements, human-robot interaction, robot rights, 3-D printing, brain-machine interfaces, and more!
Monday, October 15
7:00 pm
Rosebud Bar and Grill (behind the Rosebud Diner)
381 Summer St. (Davis Square)
Somerville MA 02144
www.couldthishappen.com
http://www.facebook.com/events/318577718237836/
This event is free and open to the public.
The event is informal and interactive, and attendees are encouraged to ask questions about the technologies on display, as well as to network, drink, and be merry in the name of all things science and science fiction.
Presenters include:
Dr. Mattias Scheutz, director of the human-robot interaction laboratory at Tufts
CJ Carr, who will demonstrate a meditation-manipulation neurofeedback system using Ableton Live and an EEG
Russell Hanson, who is doing work with brain-machine interfaces
Pete Dilworth and his dino-bot, Butch
Joseph Schlesinger, founder of Arcbotics
Kate Darling, MIT Media Lab social scientist focused on robot ethics, anthropomorphism, and robot sex
Nadya Peek (MIT Center for Bits and Atoms) and Ilan Moyer (MIT CADLAB): inventors of a portable 3-D printer
The Rosebud Bar and Grill is located directly behind the Rosebud Diner in Davis Square.